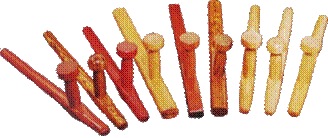 We make four styles of blades for tonfa. Not just one or two like other companies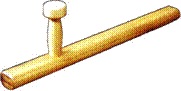 Straight Style
:
Basic Tonfa—thick board with rounded edge with a handle mounted. This is a heavy duty tonfa. If you use weapons against weapons, this tonfa style can take a real beating.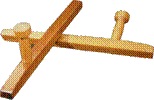 Square Taper Style :
Squared blade with a tapered tail and a beveled nose. Has good fit and balance characteristics. The tapered tail fits the forearm better. This tonfa design is lighter than the former tonfa.




Round Style :
Round blade tapering both the nose and tail. The lightest of the four styles. Most popular style of tonfa.

Contoured
Style:
Combines the best features of the tapered square and round style tonfa. The tail end of the tonfa is turned off center to get the same fit and balance as the square taper tonfa without the sharp corners. This style is sometimes referred by us as the submarine style.



Crane Mountain offers handles that differ in many

ways from most other tonfa offered. Our tonfa handles are contoured to fit the shape of the palm of the hand. The heads are larger than others, making it easier to control and hold on to during long and hard workouts. The handle thickness varies with height of the handle. We offer two standard head styles. A rounded head which looks like a mushroom and the more common flat top style. Which to use is up to personal preference.


Tonfa Sizing
Customize Tonfa