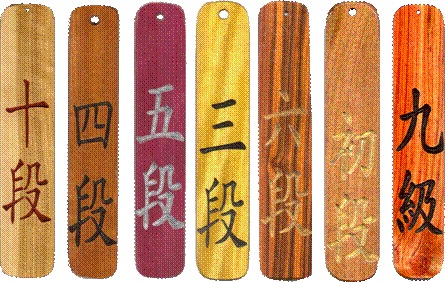 Traditional Okinawan dojos will hang student names by seniority on small pieces of wood. We offer the rank plaques using calligraphy type kanji. These plaques are labeled in English on the back as to the rank. A set includes the ranks from 10th kyu to 10th Dan. They are 9 inches by one and three quarters of an inch. We will customize these plaques to your specifications. Above is a sampling on some we have made, from left to right:


Hickory with oriental red—10th Dan
Jatoba with black—4th Dan
Purpleheart with silver—5th Dan
Yellowheart with black (most popular) - 3rd Dan
Moradillo with gold— 6th Dan
Black Walnut with gold—Shodan
Tulipwood with black— 9th Kyu


These plaques are also offered as individual items. They are great keepsake items for promotional ceremonies, Christmas gifts and year end recognition gifts. Some people have used them as a key chain.

Speaking of key chains, we can use the material to make smaller versions with club logo, special messages, or other kanji, okinawan karatedo.

Sets of blank strips are available for student names. Student names can be put on one side of the plaque in either English or Japanese. We are not sufficiently proficient in Japanese to translate names. You must provide the correct hiragana or katakana symbols that represents the person's name.