We make both steel and wooden kama. With all our kama, you can choose the handle wood, indexing and length. Wood selection will affect the weight and feel of the kama. More information on woods, go to the selecting wood page. Indexing refers to the shape of the handle so the user can tell the orientation of the blade. We offer two index shapes, teardrop shaped or parallel sides. However, we can make handles without any index (round). The kama handle is also indexed or flared in some fashion at the bottom. The standard handle length is 14 inches. We can customize your handles to any length to fit your arm size.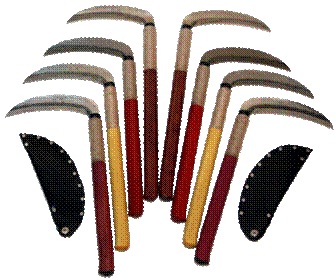 Steel Kama— These are a lighter kama as compared to the premier kama. These kama can be ordered with dull or sharp blades. The illustration shows kama with a 4" rope wrap. They can be ordered without the wrap. The bottom index is rounded - perfect for those styles with lots of flips. The blades are attached with 2 hammered solid brass rods (old fashion rivets, no pop rivet). The blades attachment are re-enforced with a metal collar and epoxied in place. The dull blades are constructed with 3oo series stainless steel. The sharp blades are razor sharp. These sharp blades are stainless steel with a high iron content so they will rust. With proper maintenance they will last. These are not toys. They are very dangerous. We wish to sell the sharp kama only to adult martial artists. Customers assume total responsibility and liability. Check local laws before purchasing.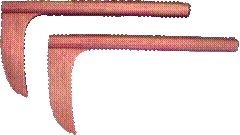 Wood Kama—Our wood kama are made to better match the weight and feel of the steel kama. This makes the transition from practice to a live blade easier and safer. They are also durable for practicing technique against bo or other weapons. You can order them as a mix and match—blade and handle different woods.